Open House - The Real Estate & Mortgage Show: September 17th, 2022
Date Posted: September 19, 2022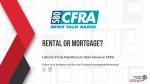 Another week shows evidence of the market slowing down. More houses are on the market and are staying on the market longer than any point this year. Although this market may not be favoring sellers, buyers have a great opportunity to shop around and take their time when buying.
The current difficulty facing buyers are the climbing rates. After the previous rate increase from the Bank of Canada of .75%; buyers are sitting on the fence and considering waiting until they see those rates come back down.
The rental industry also facing the same issues with rent prices rising in parallel with mortgages payments. Before it we were seeing mortgages payments cheaper than monthly rent prices, but now rent prices are almost on par with mortgages payments. This is leading more people to choose rentals to avoid the qualifying process, debt at high interest rates and any future rate increases.
To listen to the full episode, click here.
Contact your Mortgage Broker today for trusted advice.